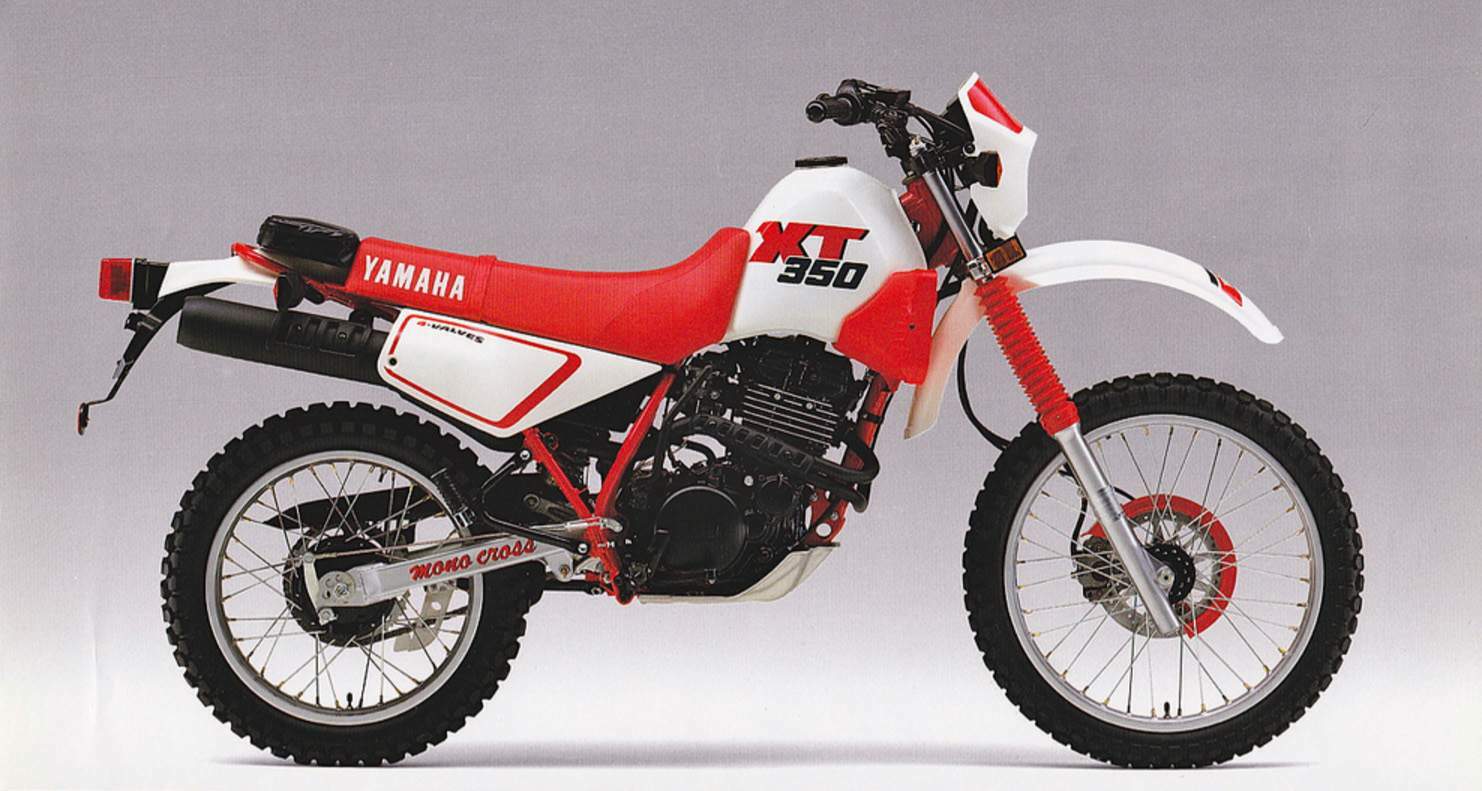 Now we are getting down to it. The first 8 picks in this list of ten were easy. The last two will be hard, mostly because they are the last two. Once I've made this choice, I only have one pick left and I'm done. No more flexibility. No going back. I'm on record until the record disappears. I'm, of course, tempted to pick something really flaky, like a 1979 Rokon Scout, one of the ugliest, most practical off-road vehicles ever made. But it really isn't one of my favorites. It would be cool if it was, but it isn't. This is hard. I might not have ten favorite bikes. What do I do then?
Aw hell, I know one of the last two has to be the most reliable, fun, versatile, comfortable, useful, easy to service motorcycles I've ever owned; the Yamaha XT350. For many, this will seem like a boring, predictable, common pick for a "favorite motorcycle." You're right. Of all the bikes I've owned and sold, my 1986 XT350 is really the only bike I wish I'd never sold and the only bike I ever owned that I'd like to have back.
From 1981 until 2000, Yamaha made this little enduro over and over again. Sometimes, it got a new paint job, usually it was white and red or white and blue. It's a brick of a bike and it handles well on and off road.
I bought my 1986 XT350 in 1989. I had two years left to get my degree and escape from California. That meant I would be commuting via side streets between Huntington Beach and via PCH to Long Beach 5-7 days a week. The 405 was not an option because it had long since become a parking lot. Commuting via PCH means that you are either splitting lanes during rush periods or you are parked. It also means that you might find yourself squashed between a dozen cars in one of California's famous multi-car pile-ups. Riding a little 350cc enduro meant I could escape traffic easily finding room to split lanes and I could escape being squashed by jumping curbs and hiding from the multi-car events sitting on a sidewalk or in someone's flower bed. I did both, often.
I put 35,000 miles on my XT between 1989 and 1995, when I decided, foolishly, to sell it. My life was overly busy during those last couple of years and I couldn't seem to find the time to get the jetting right for Denver's mile high atmosphere. My bike was dead on for the California beach, but always too rich in Denver. Today, it would be a snap for me to figure out that simple problem, but in 1995 I was so disconnected that I couldn't have fixed a toaster. Bad timing, bad thinking, and a bad decision. I've watched for another XT for more than a decade, but people don't sell those things. It took me four years to snag one in LA. In Minnesota, I probably won't live long enough to get lucky again.
This is a mildly emotional pick. The XT saved my ass dozens of times. It took me places I wanted and needed to go. I burned about a thimble of gas every zillion miles. It always started on the first kick. I have nothing but good memories for that motorcycle.
Here's the rest of the list, with only one bike left to pick: