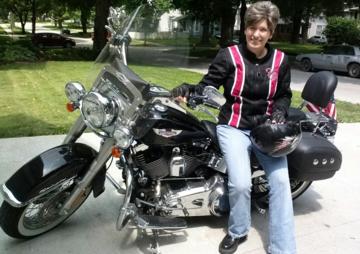 My first thought was, "What a pair of posers." I'm still waiting for a second thought. However, here's the press release and you can make up your own mind, then tell me what you think.
My primary, cynical-self thinks this is more anti-helmet, Harley-poser promoting bullshit.
Apr 04 2017
WASHINGTON, D.C. – Today, U.S. Senators Joni Ernst (R-IA) and Gary Peters (D-MI) announced the formation of the first-ever Motorcycle Caucus in the United States Senate. The life-long motorcycle riding senators will serve as co-chairs of the caucus, and will advocate for a multitude of issues on behalf of both motorcycle riders and manufacturers.
"Some of my most cherished memories include motorcycles, from delivering messages as a young girl to my dad while he was working out in the fields, to riding through the rolling hills of Northeast Iowa with family and friends," said Senator Ernst. "I am thrilled to have the opportunity to encourage thoughtful discussion and solutions on behalf of motorcycle riders and manufacturers through my new role as co-chair of the Motorcycle Caucus. Throughout my 99 county tour of Iowa, I have heard from many of these folks about some of their priorities, including improving safety, infrastructure, and energy efficiency. These concerns are shared by folks across our great state and country, and I look forward to working with Senator Peters toward solutions."
"I've loved motorcycles since I was a kid, and I started a newspaper route to buy my first motorcycle at age 11. To this day, I believe there is no better way to see Michigan's beautiful scenery than by bike, whether I'm riding to meet with constituents and small businesses or taking my bike out on the weekend," said Senator Peters. "Motorcyclists come from all walks of life, and I can't think of a better way to bring together a diverse and dedicated group of advocates to discuss everything from safety concerns to manufacturing. I'm looking forward to working with Senator Ernst as co-chair of the bipartisan Senate Motorcycle Caucus to foster these important discussions and find common ground with motorcycle lovers across the country."